Hey ya'll! It's Pauline from Club Chica Circle again - and it's time for some holiday crafting inspiration!
This time let's put our leprechaun hats on and get in the St. Patrick's Day spirit with these Shamrock Mason Jars with glittery gold shamrock designs.
So cute, right? You won't believe how easy it was to make them.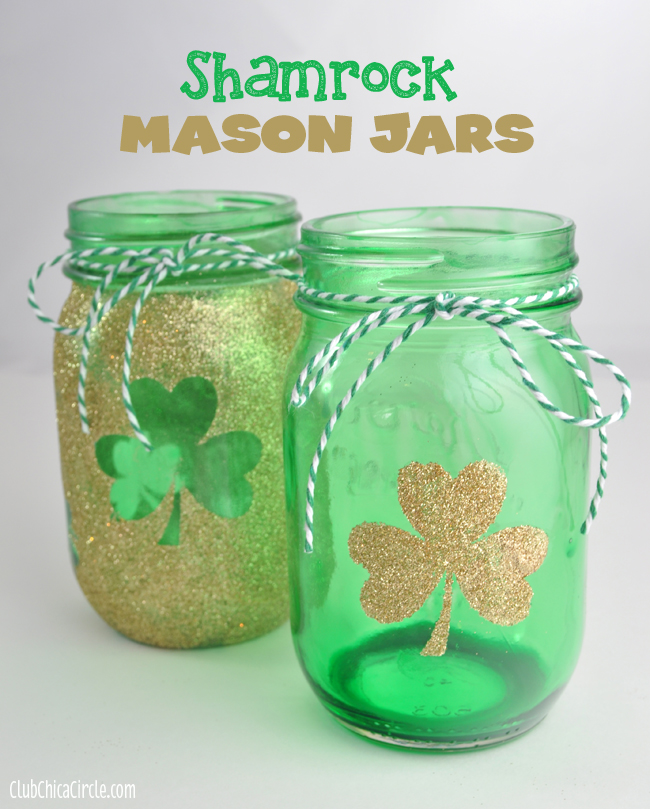 I started with regular clear mason jars, and hand-tinted them a really pretty transparent green. Then for some St. Patrick's day flair, used gold glitter to add shamrock designs on the front. Because, let's just be real, everything is a little better with glitter, right?
Here are the basic supplies I used:
Pint-sized mason jars
Green transparent glass stain ( I used DecoArt brand)
Decoupage glue ( I used Americana Decou-Page. Mod Podge would work too)
Gold glitter ( I used Michaels Recollections glitter)
Spongebrush
Self-adhesive vinyl (used as stencil for shamrock shapes)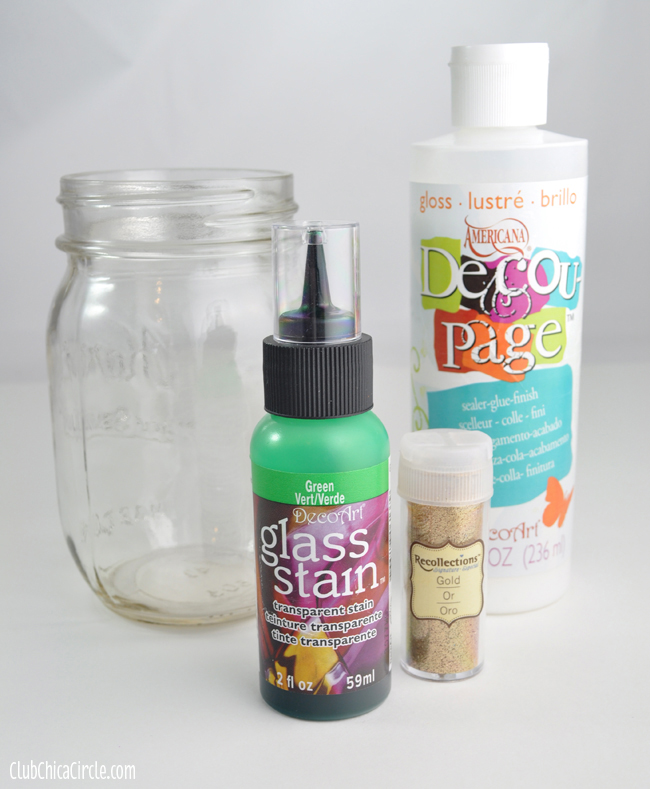 First step is to tint your mason jar. So easy!
Start with a clean dry mason jar and squirt a little glass stain on the bottom.
Swirl it around and let gravity work it's magic by spreading the color all along the insides of the jar. I did this over a paper plate and actually let it drip down for a couple of minutes to get excess out, adding a little extra glass stain if necessary. Then I sat it upright again and let it slide back down to dry. I used a paper towel to wipe off any excess along the top rim, but that is basically how you can tint your own mason jars.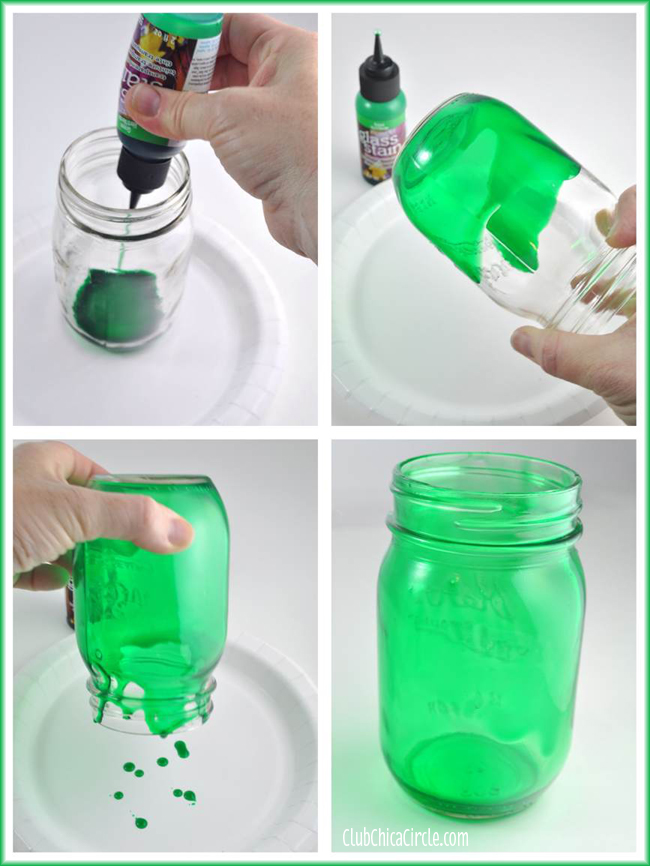 Now, let it dry. You will want to let your stain dry for a least 24 hours before putting anything else inside your jar, but I let it dry for about 2-3 before adding the glitter shamrocks on the outside of the jar.
To add the glitter shamrock shapes on my jars, I used some self-adhesive vinyl and my Silhouette cutting machine.
If you don't own one, you can cut out your designs using an X-ACTO knife, a steady hand, and this Shamrock template printable as a guide.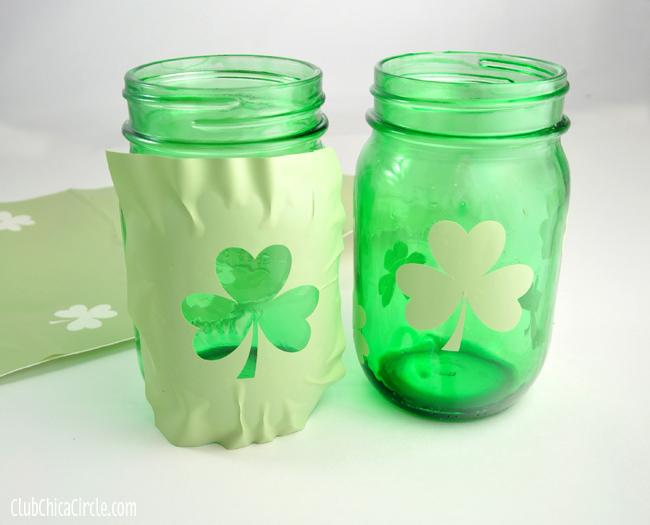 Keep in mind, wherever the vinyl is applied is where the glitter or glue will NOT go. So I used the same stencil in too different ways. The first one as a window, and the second one as barrier.
After the vinyl is securely applied to the outside of the jars, it's time to add the glittery goodness!
First I applied a coat of decoupage right onto the glass, wherever I wanted the glitter to adhere to. I sprinkled on the gold glitter and carefully shook off any excess.
Then, ever so carefully, peel back the vinyl stencil. Make sure to peel off the vinyl before the glue dries.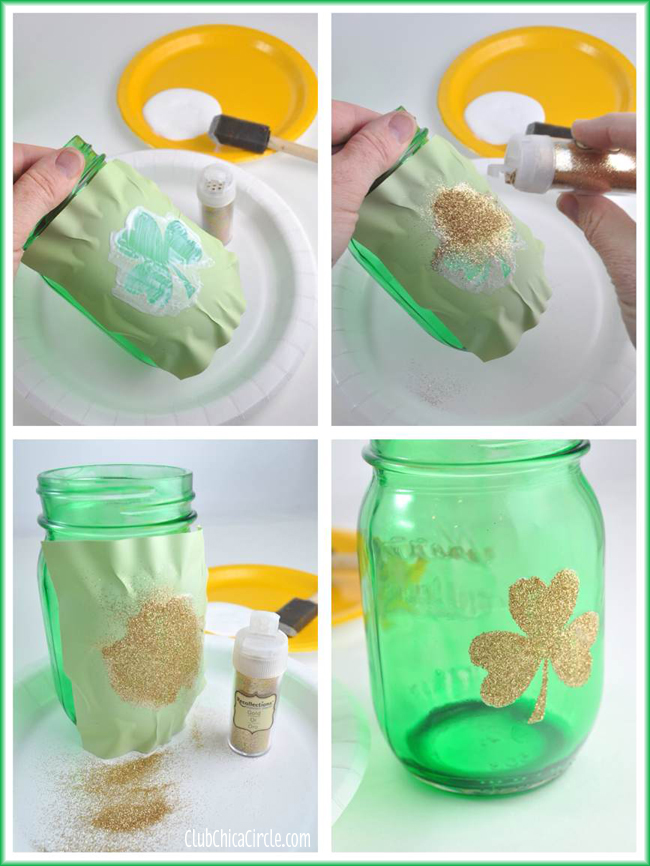 Lovely!
In reverse, I applied a layer of decoupage all over the jar just under the rim and used the same technique. Remember, wherever you put the decoupage glue is where the glitter will stick.
This one was a little trickier to take the vinyl stencil off. I used the tip of my X-ACTO knife to grab the edge of each shape and help take them off to reveal the pretty green shamrock windows it created in my jar.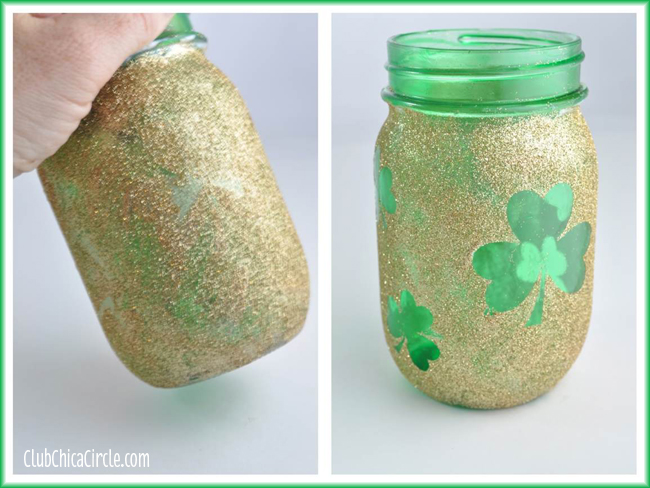 Now, put it down and let it dry completely! Don't touch, you won't want to smudge the glitter.
I finished the pretty jars off with with a little green and white baker's twine.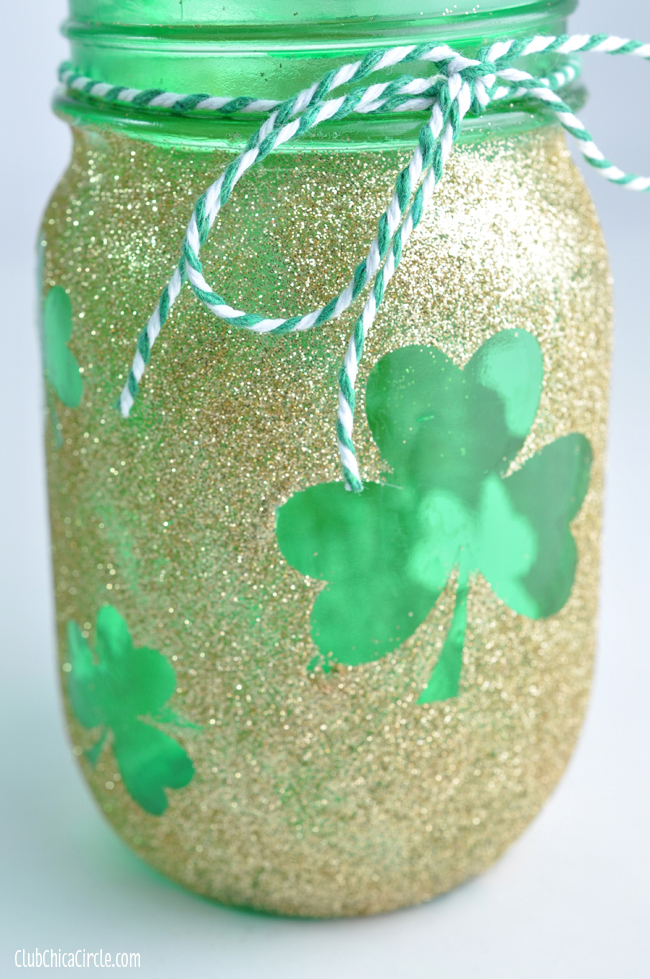 You can also turn them into pretty luminaries by putting a candle or battery operated candle inside.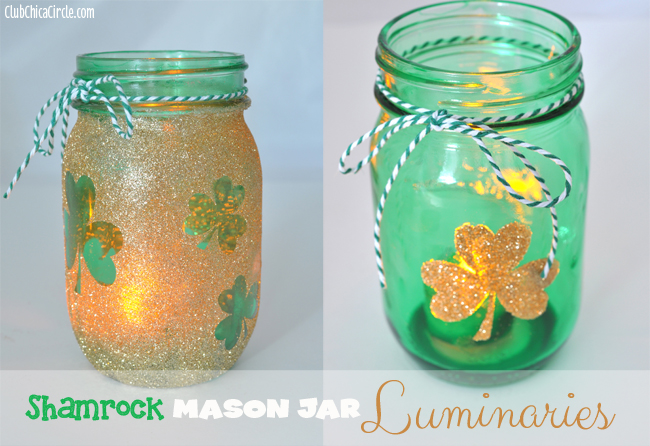 So pretty!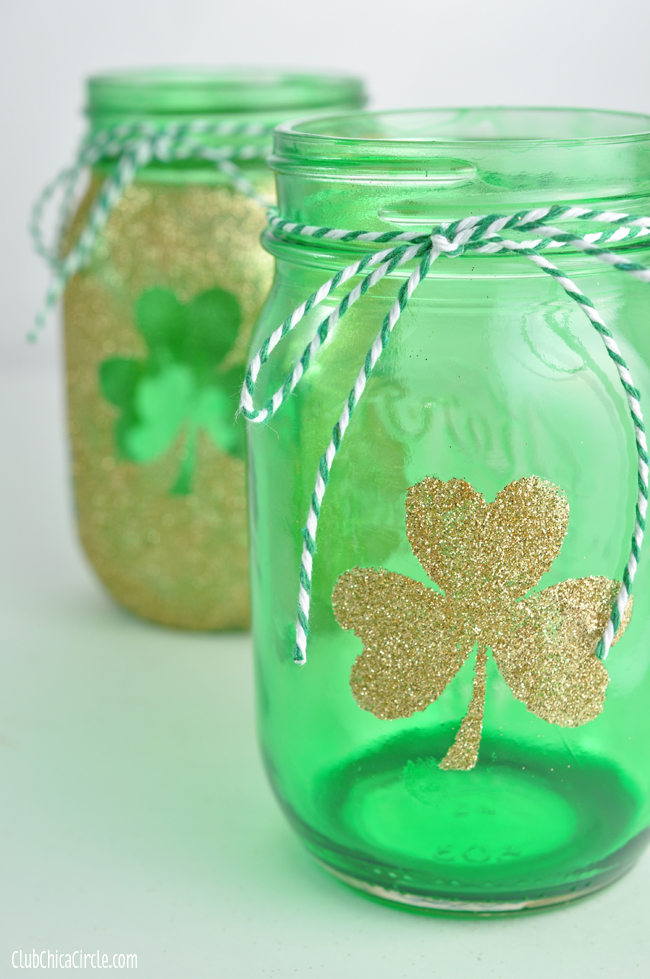 These are festive with or without the candle in the middle. I love how the tinted glass jars turned out, and they look great with just natural sunlight glowing through them.
Once they are completely dry, you could also fill them with wrapped candies (glass stain is NOT food safe), or use as a fun pencil or flower jar.
I like them just as they are, as fun and simple St. Patrick's day decor!
For some more St. Patrick's Day inspiration, try these fun and easy ideas:
What do you wish for at the end of your rainbow? If you asked my daughter, she would say, "chocolate, of course!" This is super simple and great way to give a sweet "Pot of Gold" filled with a chocolate treat complete with free printable tags.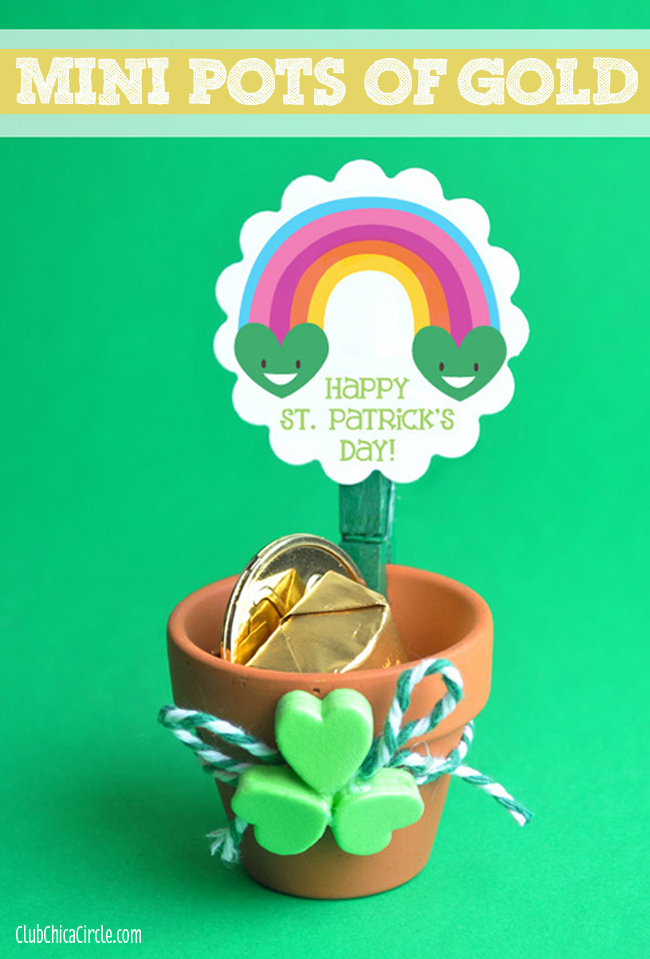 Melted Perler Beads St. Patty's Day Cards and Ornaments
Melt colorful Perler beads with the help of some pipe cleaners to make these one-0f-a-kind ornaments and cards.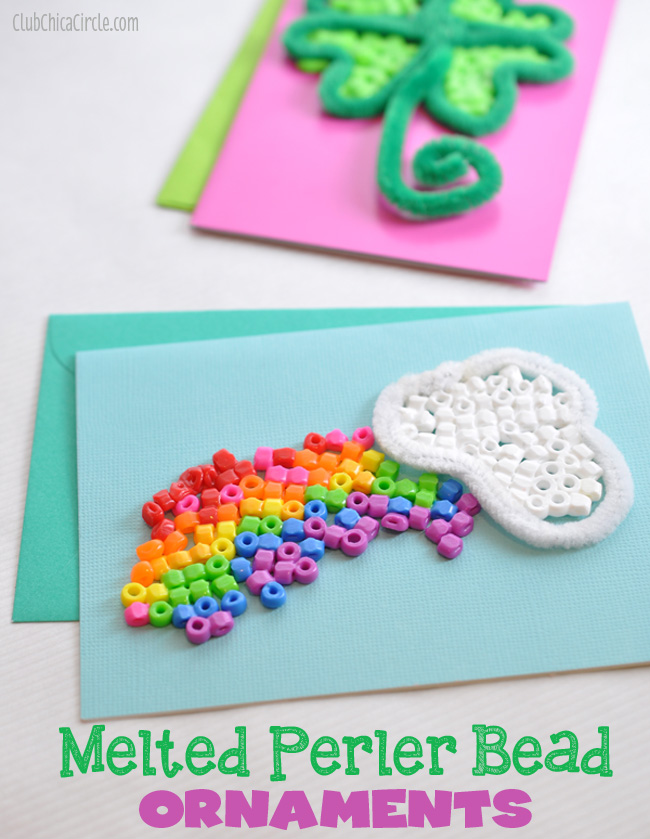 And for easy but beautiful rainbow fashion, you will love these rainbow painted hairpins craft idea.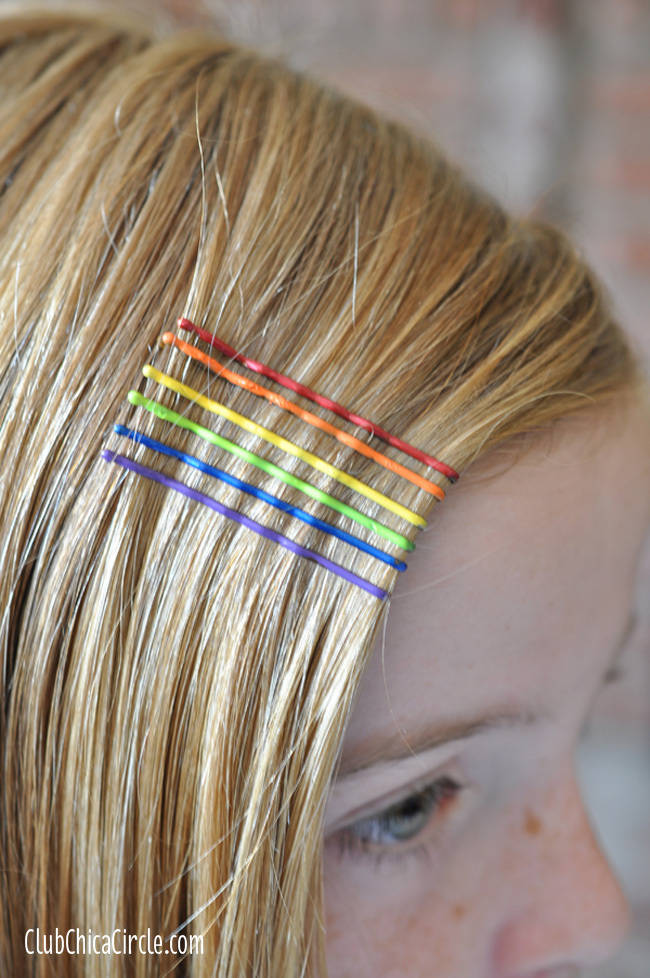 I look forward to seeing you all next month!
You can also find and connect with me here on Facebook, Twitter, Pinterest or Instagram.
Happy Crafting!