Hey ya'll! I'm so excited to be a part of the Mom 4 Real team and to bring a little LOVE inspiration for Valentine's Day. I'm Pauline from Club Chica Circle and it's my pleasure to meet all of you and share some fun holiday-inspired craftiness.
I've made plenty of homemade yarn pom-poms and turned them into owls or pumpkins, but I have been dying to try this crafty technique of making a simple small pom-pom with a fork. Yes, I said fork. I've seen it all over Pinterest, and thought this would be the perfect opportunity to test it out and turn it into a super cute festive heart garland Valentines decoration.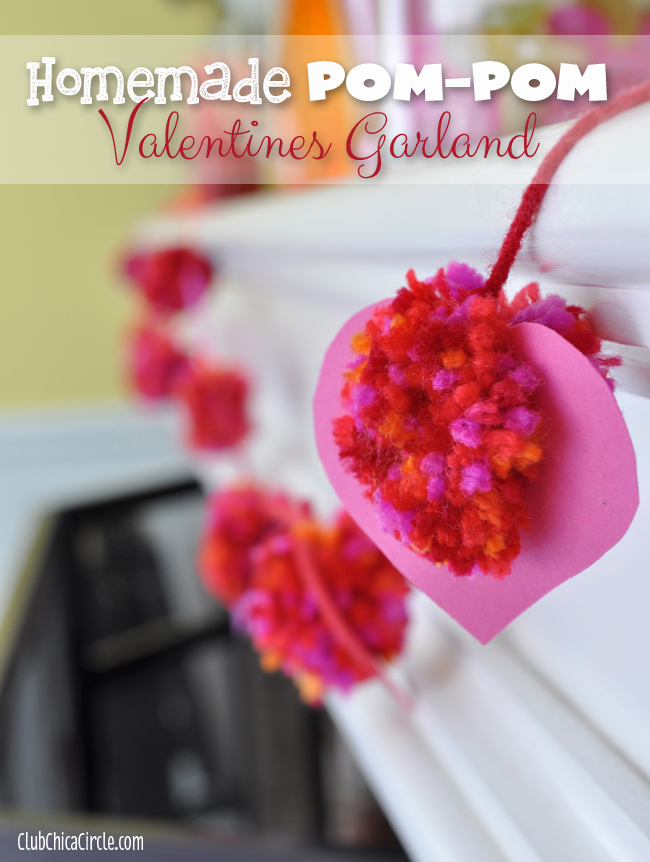 It's so easy to make and so pretty, you are going to LOVE it.
I started with a pretty multi-colored yarn of red, orange, pink and purple.
Then I used a regular plastic fork and a sharp scissors to make the homemade pom-poms.
For the heart shapes, I used coordinating colored cardstock paper in red, pink and purple.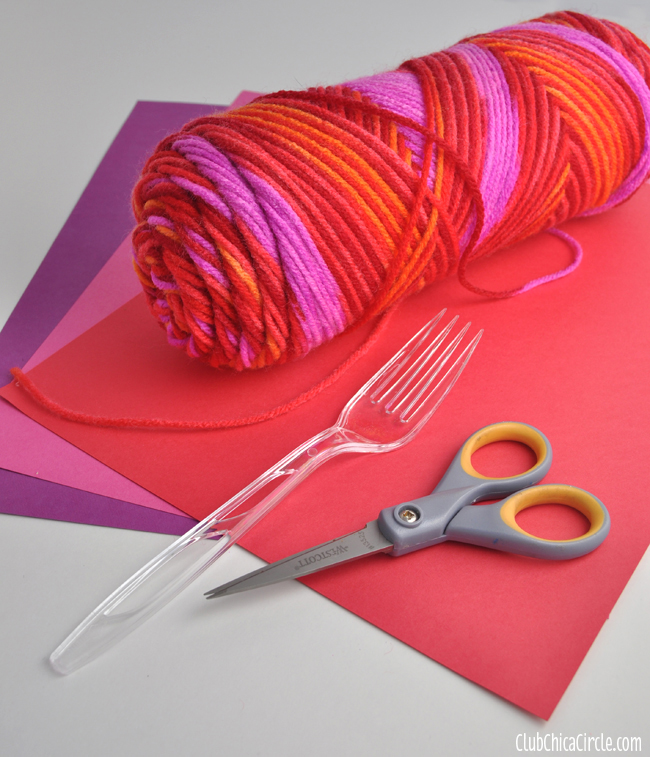 The first step is to make the pom-poms!
Start by wrapping your yarn around the tongs of a fork. I found it helpful to hold the fork at the tip so that the yarn doesn't slide off while you are winding it on.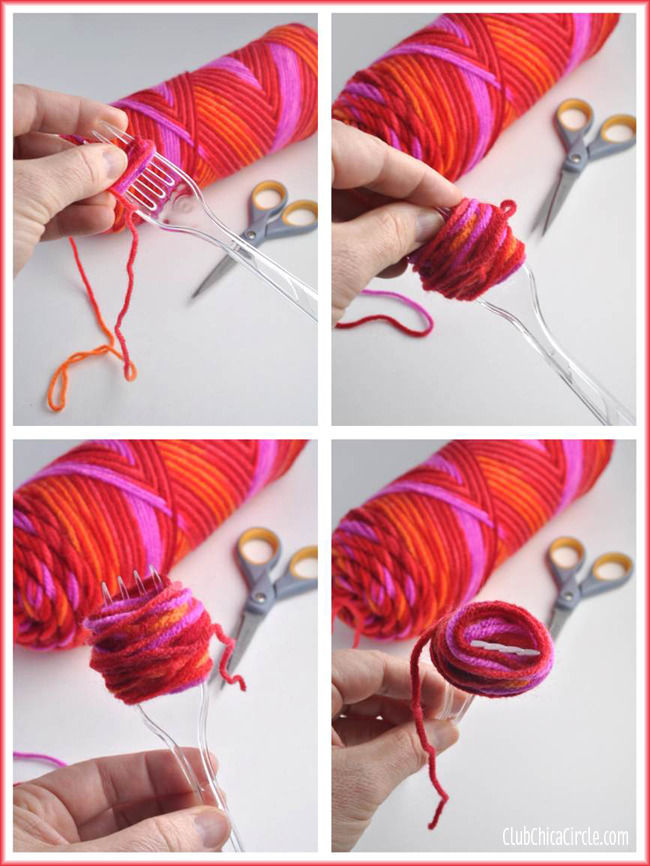 Keep winding until you have about an 1" of thickness on your fork and cut off the end.
Now, it's time to secure the yarn ball and turn it into a pom-pom shape.
Cut another piece of yarn about 6-9" long. String one end through the middle tong and wrap it around your yarn bundle.
Pull it tight and secure with a double knot.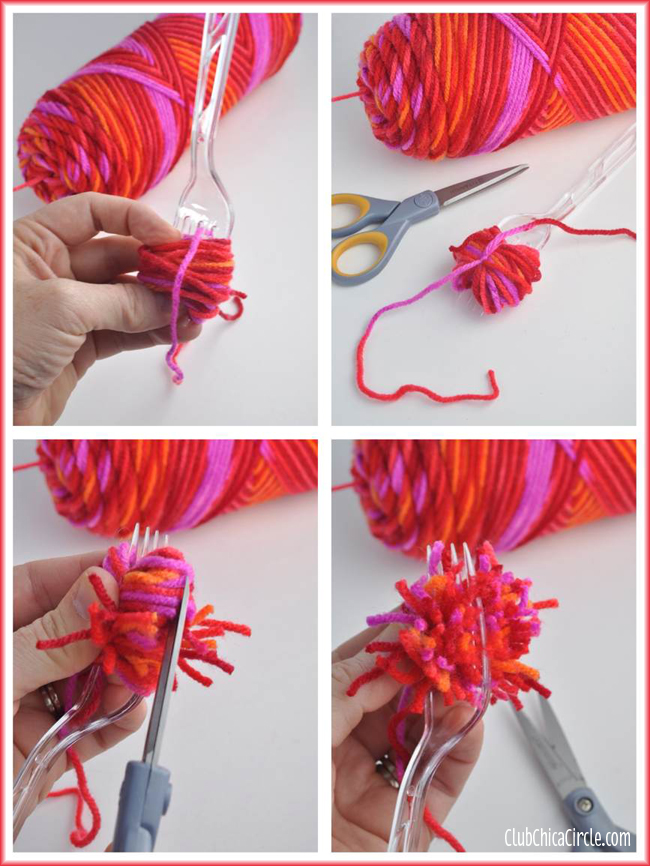 With a pair of sharp scissors, start trimming the yarn on outer sides of your fork until you have cut through each loop. Repeat on the other side of your fork.
Your pom-pom comes off of the fork a little scraggly looking. No worries - just give it a haircut!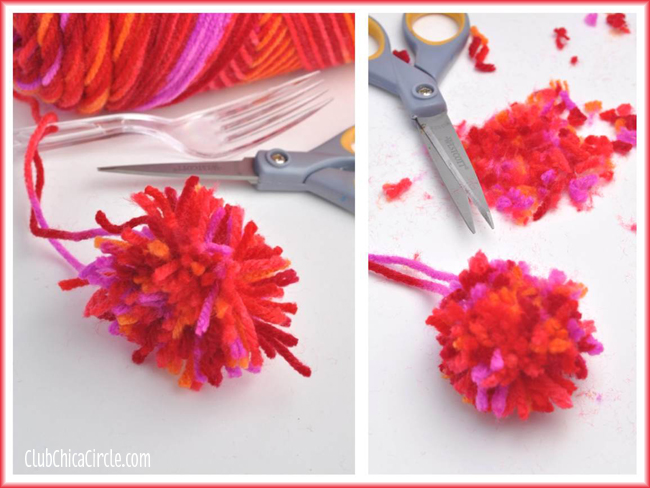 Trim your pom-pom until it is the perfect round shape.
To turn your pom-poms into cute heart decorations, it's time to add the colored heart shapes onto them.
I cut hearts out of each of my colored sheets of cardstock paper, and then cut a small circle in the middle of the heart.
You can use this free printahle Heart Pom Pom template. Download and print out and use as guide for cutting your own hearts.
Then place each paper heart along the center of your pom-poms.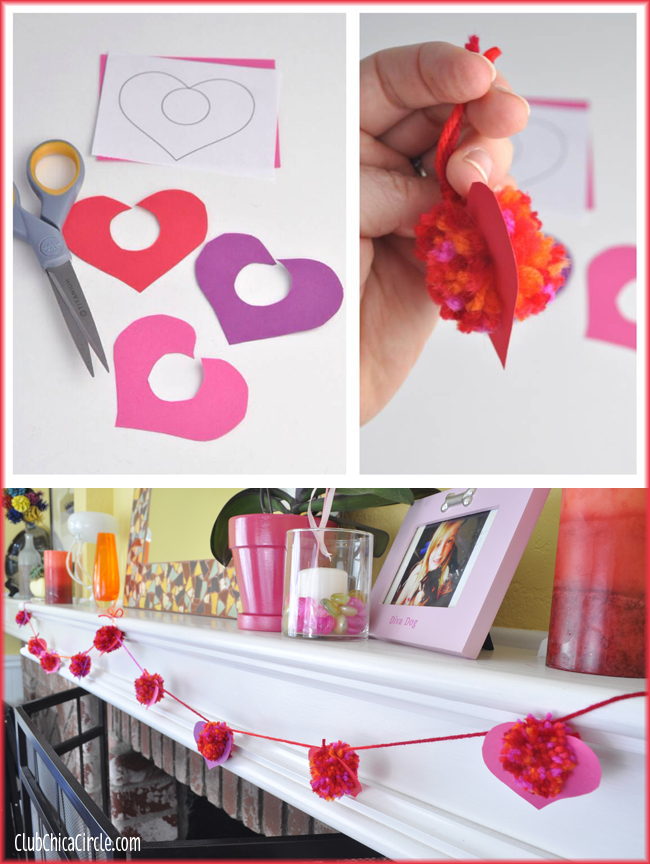 Attach your heart pom-poms onto a long string of yarn and hang where desired. I tied the long ends of the pom onto the garland string and trimmed off the excess.
I ended up making 9 homemade heart pom-poms and hung it on our mantel at home.
The garland is not only colorful and festive, but all 3D and fun!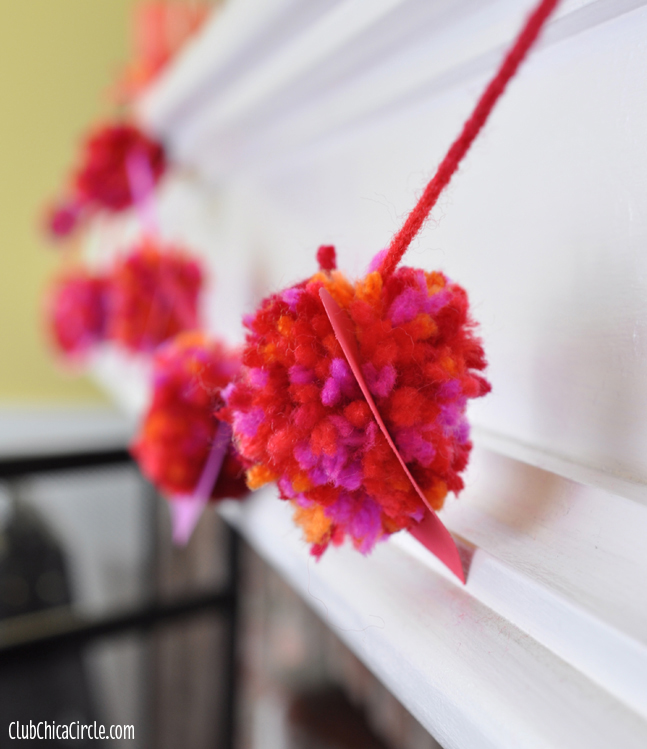 Lovely!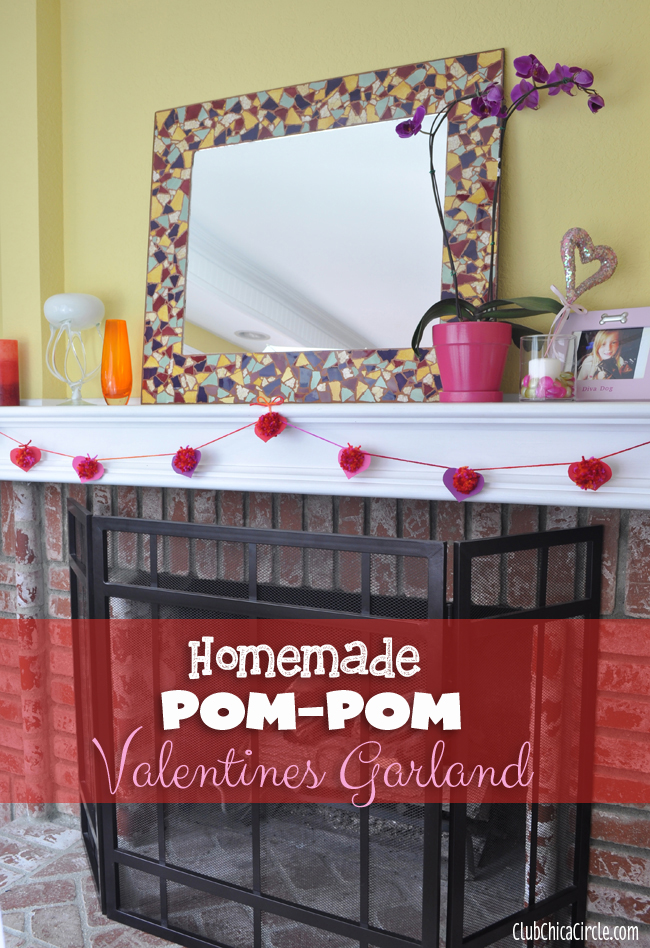 Sure to brighten up any room!
Enjoy!
For more Valentines craft inspiration, check our some of these other Valentines craft ideas:
This one is like a science experiment with sparkly results.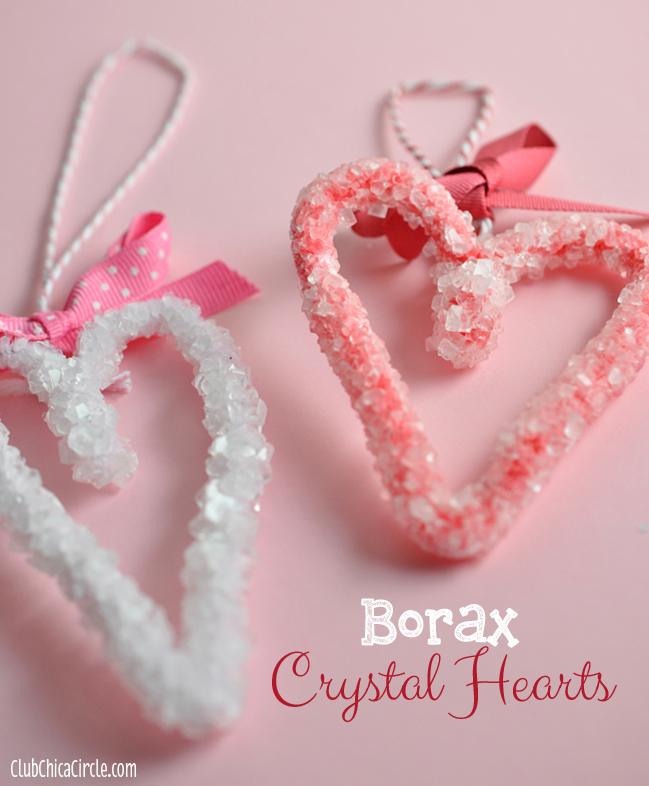 Wood Block Glittery Heart Presents
I made these over the Christmas holiday, but I can't wait to play with more glitter and give them as fun Valentines presents - without the calories.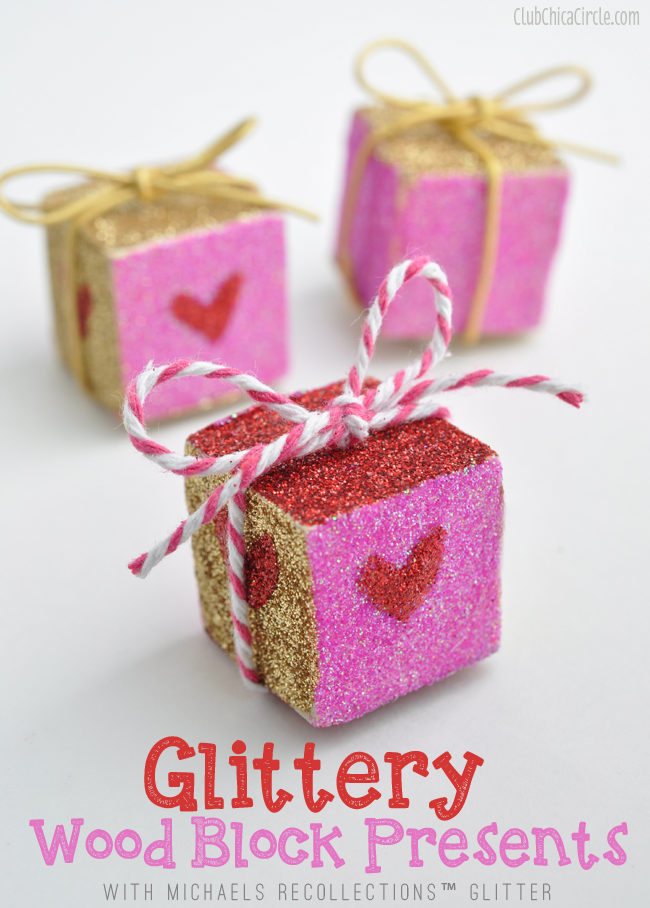 Here's a fun and easy homemade way to tackle Valentines for kids. Simply attach the free printable tags to pencils and share!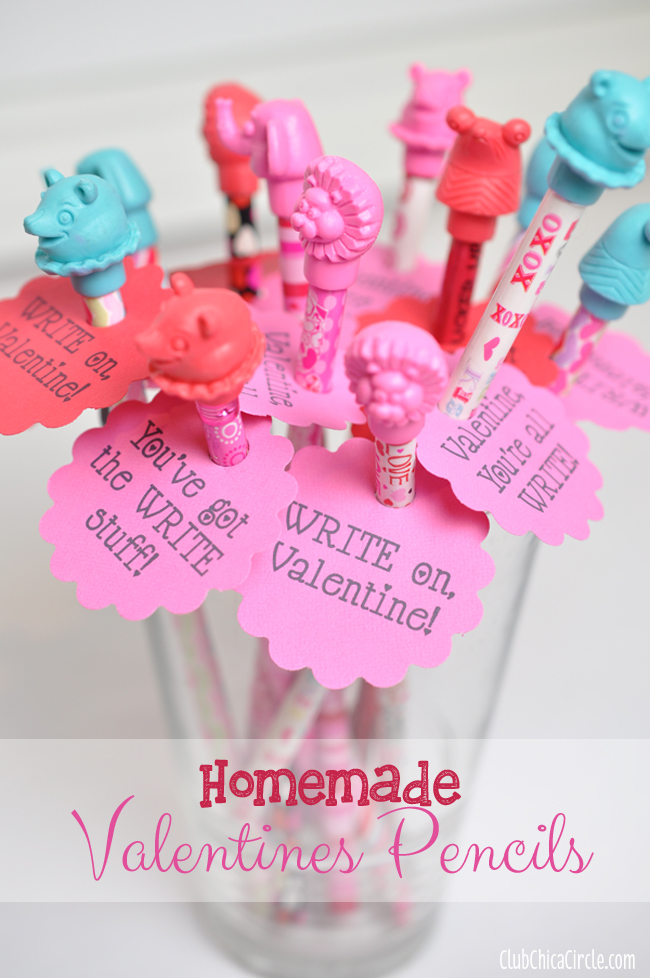 I look forward to seeing you all next month!
You can also find and connect with me here on Facebook, Twitter, Pinterest or Instagram.
Happy Crafting!
 I'm so excited to have Pauline on our team!!!  She has so many amazing ideas, and will be here monthly sharing an amazing holiday project!  Be sure to stop by Club Chica Circle to see more amazingness from Pauline!