I definitely have Fall Fever.  I worked on my Fall Mantel this past weekend, and now I can't stop.  The only problem is…there are NO PUMPKINS TO BE FOUND!  Don't they know that I need pumpkins right now?  Don't these pumpkin growin' fools know that there is a Primp Your Pumpkin party happening next week?  Since they don't, I have been making my own pumpkins.  I did find some mini pumpkins at the grocery store, so I used them to add a little Fall accent to my breakfast nook, then I thought…how about a pumpkin pillow?  So, I sewed a long ruffle in Riley Blake rouge dots, and hot glued it to the front of one of my Dropcloth Pillows in the shape of a pumpkin.  I love it nestled in with the others.  
Now my Newish Breakfast Nook feels nice and Fallish ;) 
Are you decorating for Fall yet?
Better yet, are you primping a pumpkin for the party that Fox Hollow Cottage, Debbiedoo's, and I are throwing next week???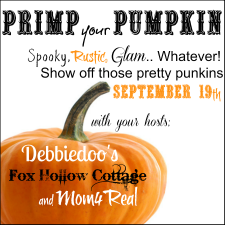 Linking up at:
Due to having some of my content and posts stolen by no good lazy people who don't do their own projects, I am sorry to have to truncate (shorten) my feeds. Please don't hold it against me, and continue reading, because I do love you and want to share my tutorials with you ;)
Love,
Jessica