Hey ya'll! It's Pauline from Club Chica Circle, and I'm sharing a fun homemade gift idea for one of my favorite holidays—Mother's Day!
Home is where your MOM is!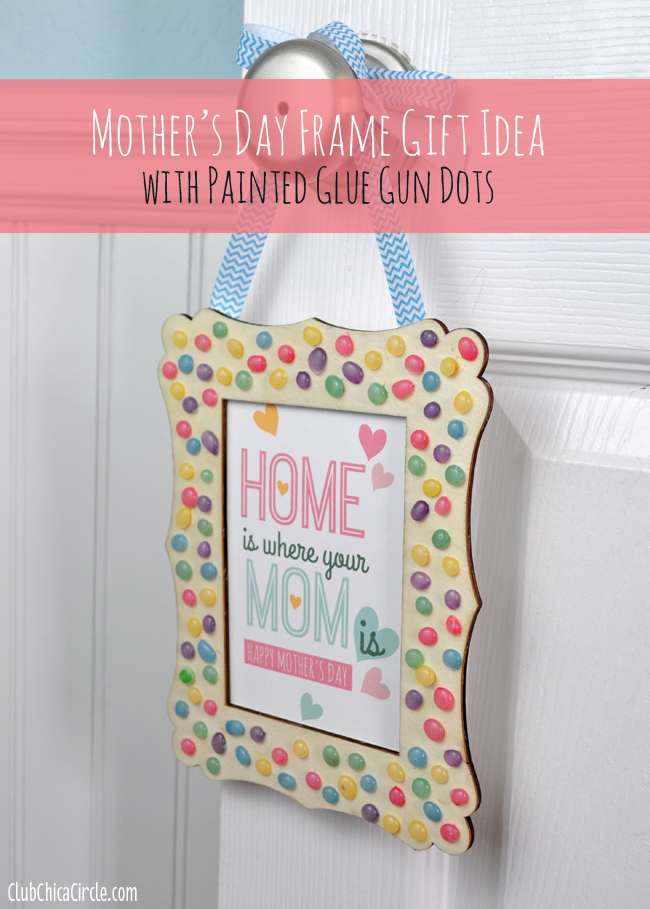 Isn't that SO true?
This is a great craft and homemade gift idea for Mother's Day that is coming up in May. Plus, I'm showing you a little crafty trick - how to make colored enamel dots with your glue gun!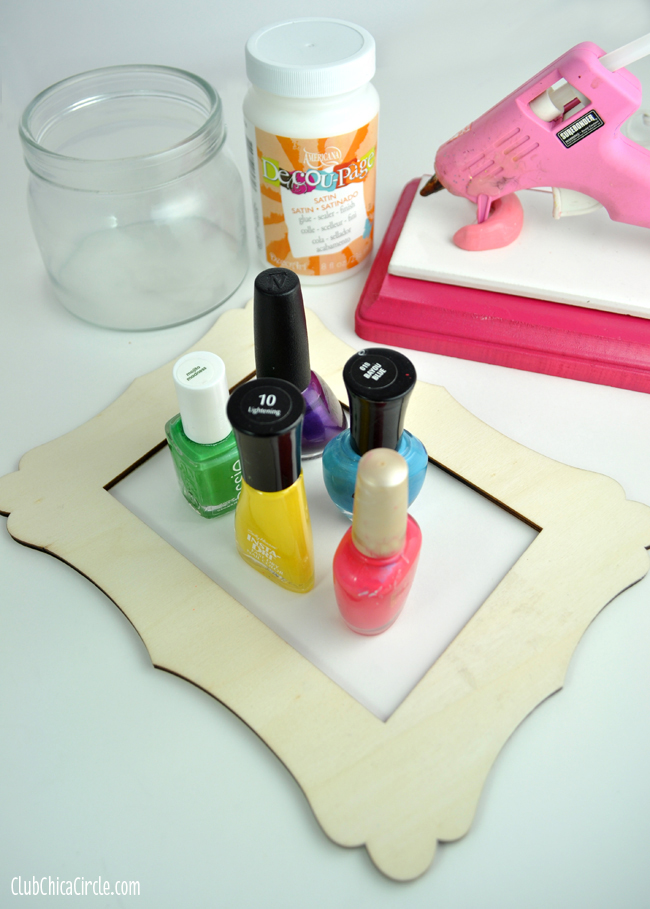 Yep, normally when I craft, I would say you DON'T want to see your glue spots from your glue gun. But in this crafty technique, you absolutely DO!
I got the inspiration from this crafty Argentinian blogger Agus Yornet. She couldn't find enamel dots in her country, so she made some herself!
I used these supplies to make my own enamel dots:
Glue gun
Glass jar
Nail polish (various colors)
And I used a pretty decorative wood frame that I found at Michaels for my Mother's Day canvas to put these colorful dots on, along with decoupage (I used Americana Satin Decou-Page) and a sponge brush.

The trick is to squirt small pea-sized dots onto a surface that the glue dots will easily pop off of. I used the bottom of a glass jar and let them cool before popping them off. You could also use a glass or ceramic tile.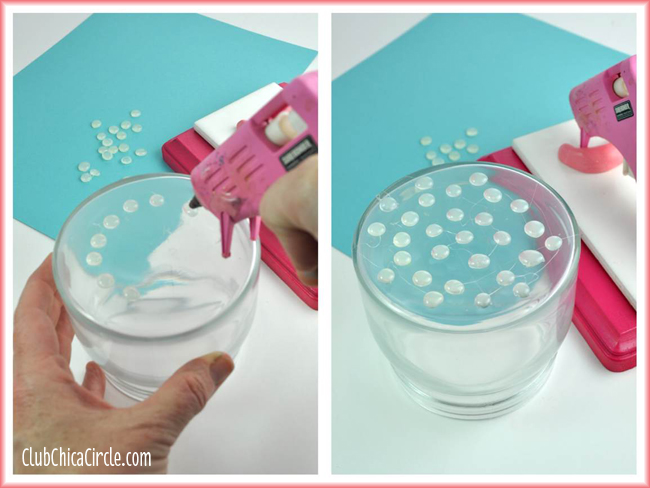 To make big batches of dots I filled the bottom of a glass jar with dots and pulled them off when cool. I also pulled off any extra glue strands.
Then I painted the back of each glue gun dot with nail polish and let them dry.
To attach them to my frame, I applied a generous coat of decoupage on top of my wood frame and positioned the homemade enamel dots on top.
Then once my my frame was dry (about an hour), it was time to add the perfect Mother's Day touch and add a pretty printable inside.
To complete my Mother's Day Gift frame I used:
"Home is Where Your Mom is" FREE printable (I made the printable suitable for a 4" x 6" frame window)
Self-adhesive foam sheet (cut to size just smaller than my wood frame)
Decorate ribbon
Transparent tape
X-ACTO knife (to cut the printable and the foam sheet out to size)

I basically sandwiched the printable and ribbon in between the wood back and the self-adhesive foam sheet. I first used a couple pieces of transparent tape to hold the printable in place, and then placed two strips of ribbon (about 18" long each) next to the outer edges, and secured the whole thing down with the sticky part of the self-adhesive foam.
I chose to use the natural wood color and loads of homemade colored glue gun dots on my first frame, but wanted to add a little color to a second one.
I spray painted another wood window frame blue, and just added a little extra details with the homemade enamel dots.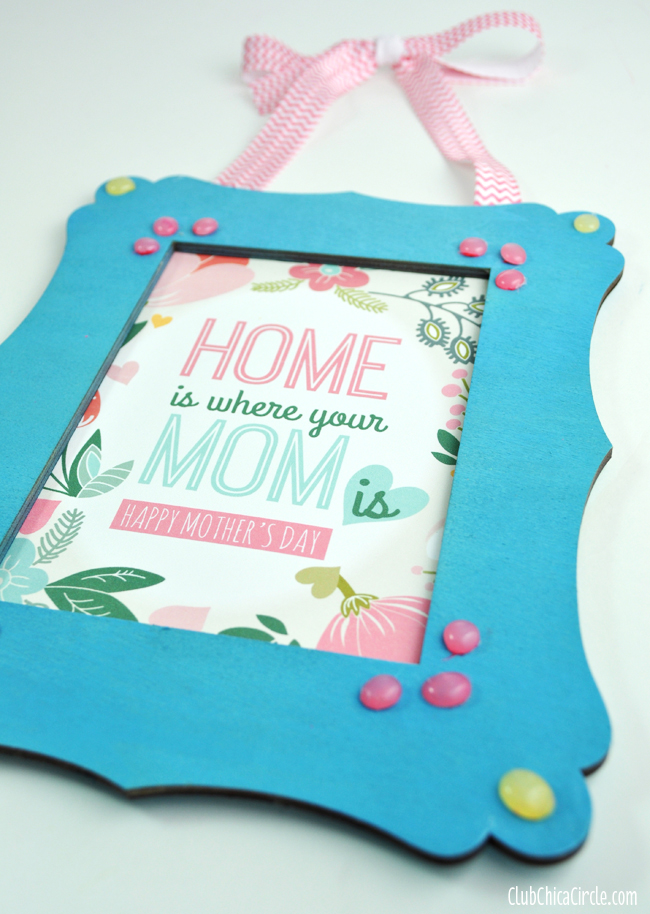 I also created a Home is Where Your Mom is with flower design FREE printable for the second one. I went fancier on the printable design, and more subtle on the glue gun dot frame decorations.
I love how the painted glue gun dots just add that extra little special something!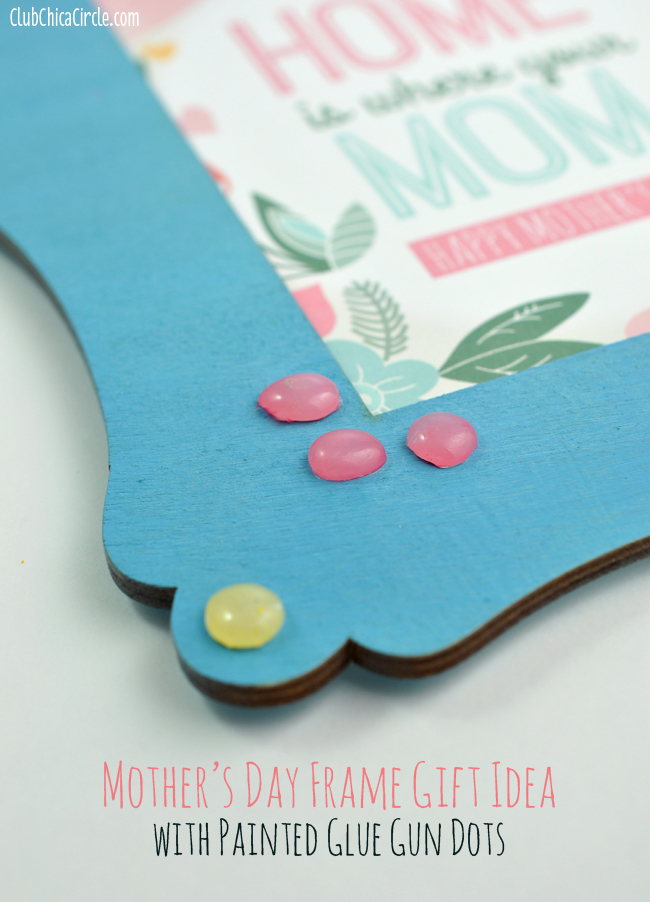 For more Mother's Day Homemade Gift ideas check out these craft ideas:
Do you have extra empty plastic eggs like I do from Easter? Make these cute candy-filled PLASTIC EGG DUCK TAPE ROSE BOUQUET.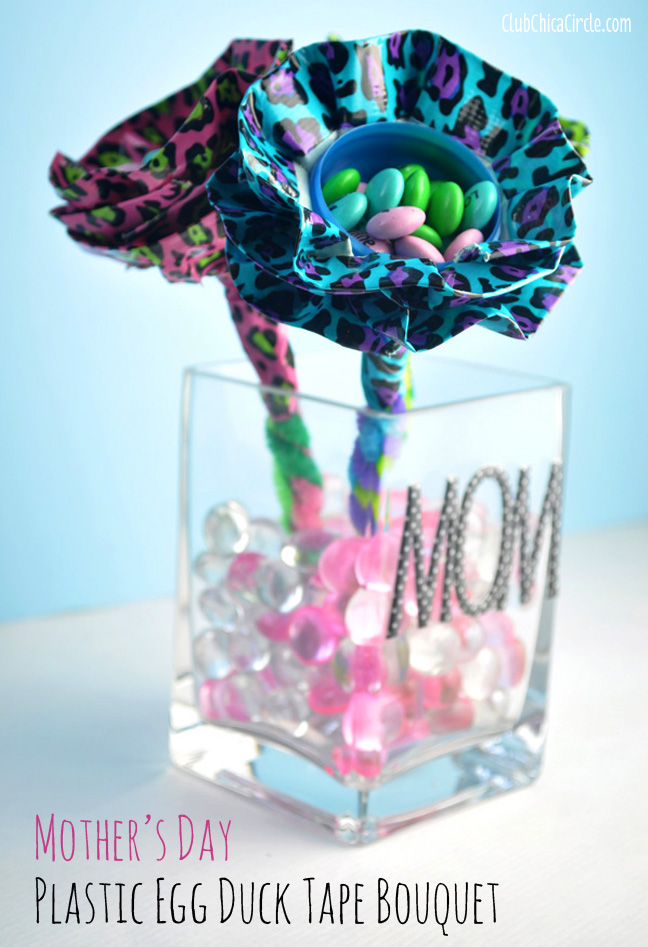 Want to give MOM a little relaxation? Try these HOMEMADE BATH BOMBS with free printable tags.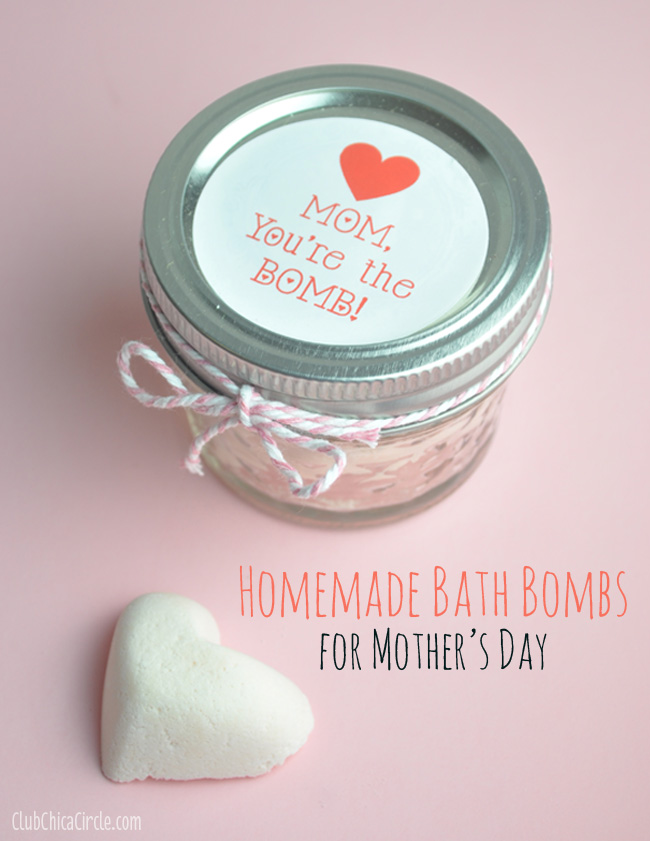 And make a fashion statement with this pretty PAINTED BEAD STATEMENT NECKLACE for Mom.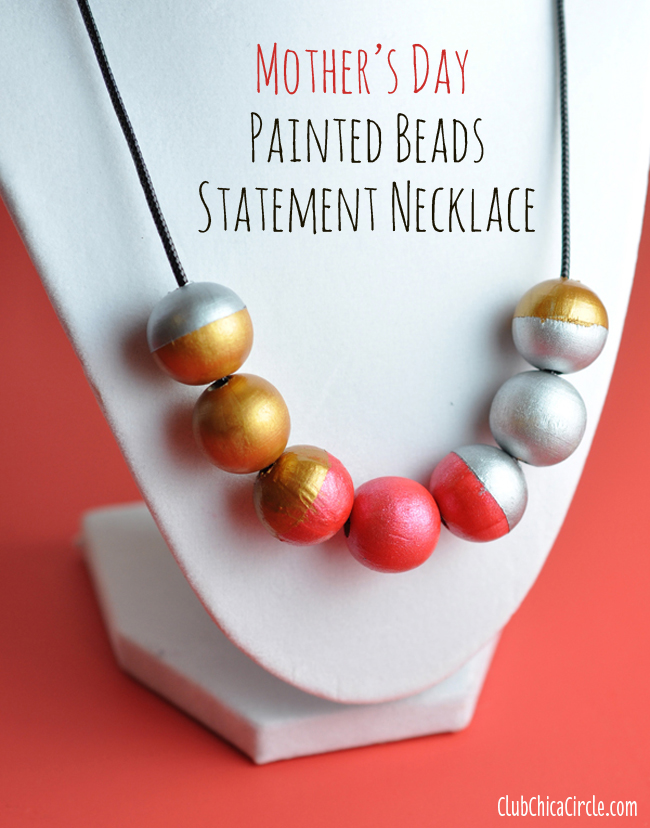 I look forward to seeing you all next month!
You can also find and connect with me here on Facebook, Twitter, Pinterest or Instagram.
Happy Crafting!