This is a sponsored post written by me on behalf of Serta for IZEA. All opinions are 100% mine.
This is our sweet cottage style blue and white bedroom, but it's hiding a sad little secret. You see, under all of that billowy blue and white cuteness, there is a serious problem…a lumpy, horrible mattress. It's not a good sleeping situation at all. To begin with, there is a huge hump in the middle of the bed (see photos and video below). It's too soft with no firmness, which is not good for this girl's back, it has two indentions in it where my husband and I each get stuck, it's a hot box, and the pillow top is not what I would call pillowy.
See the lump in the middle? We call that the hump…or the great divide. It's ridiculous.
If you look at the top and sides of the mattress, you can also see how wavy it is. Not firm at all.
So, it's time for a new mattress. Time to get rid of the great divide and make sleeping a priority.
Check out this video to see the real issue…
We are going to choose on of Serta's Perfect Sleeper mattresses, which are designed to be so comfortable, we'll never have to count sheep again.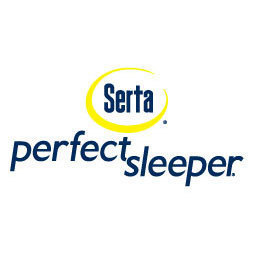 The Serta Perfect Sleeper is the only Official Mattress of the National Sleep Foundation, designed to help solve  5 common sleep problems such as…tossing/turning, lack of support, back pain, sleeping hot and partner movement and sagging/rolling off. Yep…I have most of these issues! 
The 2015 advancements include Cool Action™ Gel Memory Foam availability in select Perfect Sleeper models for the first time, Custom Support® Individual Advantage coils in select models and a new Perfect Sleeper Memory Foam line, providing an option for consumers that want a memory foam bed at a more affordable price point. They offer high-quality mattressess at attainable prices too! Select Perfect Sleeper mattresses are compatible with Serta's adjustable foundations so you can do everything you want to do in bed – from watching television to just lounging – with customized comfort and supports. Serta offers two affordable adjustable base options that are compatible with the Perfect Sleeper mattresses:
The Pivot™ model allows you to adjust the head of the mattress
The Motion Essentials™ model allows you to adjust both the head and the foot of the mattress
I'll be trying out and selecting the mattress that works well for Matt and I, and I can't wait to share it with you!