It's Pumpkin Primpin' Time!
Kate and I have been busy primping our pumpkin princess style!  Since Kate has always had a love for princesses, we decided to turn our pumpkin into Cinderella's Coach complete with Cinderella and her little mice.  Isn't it just magical?
Okay, enough about our pumpkin…we wanna see your primped pumpkins!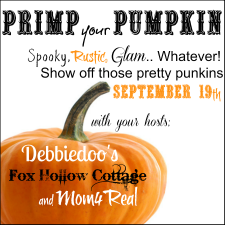 So, please bring your primped pumpkins and share them with me, Debbiedoo's, and Fox Hollow Cottage!  
Let's get this party started!

Pretty please link back so everyone can party with us!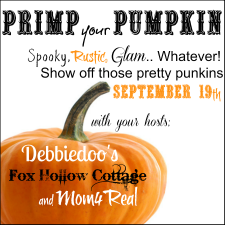 Due to having some of my content and posts stolen by no good lazy people who don't do their own projects, I am sorry to have to truncate (shorten) my feeds. Please don't hold it against me, and continue reading, because I do love you and want to share my tutorials with you ;)
Love,
Jessica